Becky Gillis: Never A Boring Brief
Senior Designer, Chello
by Elizabeth Lavis
|
27 Sept 2022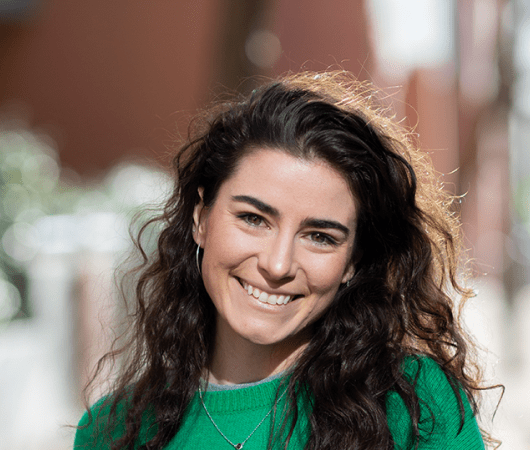 "It's rewarding and exciting being able to turn a client's vision into reality and see both digital and physical transformations."
Becky Gillis might have just started her career at Chello less than three short years ago, but she's already making significant waves in the design world. Guided by her meticulous attention to detail and fusion of strategy and creativity, she's already able to make clients feel well at ease.
"I love being able to create either subtle or clear connections between the logo's design or logomark and the brand's visual system," Gillis says. "Also, of course, the more strategic side of the brand itself."
Gillis lives by the maxim that there's no such thing as a boring brief and takes excellent care to immerse herself in the creative process and a rich understanding of the brief itself. "I like to dig deep into who the target audience is to understand their everyday behaviors," she says. "Then, I start collecting references of logos, color palettes, and branding elements to create mood boards."
Gillis' mood boards act as guideposts for the larger design, giving her a myriad of different options and helping cement a clear stylistic direction. Once the client has selected their favorite mood board, the fun begins. Gillis works with many stylistic elements, digging deep into the brief and clients' needs.
"When I'm doing a brand identity, the design of the logo often depicts the rest of the brand," she says. Other elements, like color palettes and typefaces, adhere to the core brand and allow Gillis to flex her creative muscles while developing something unique and effective for individual clients.
Gillis credits her detailed and inquisitive design approach to her childhood in Australia's Blue Mountains. "I was surrounded by a close-knit community my whole life and developed a natural curiosity in everyday people and their unique stories," she says. "This curiosity translates into my design thinking. Through the power of empathy, I love to put myself in the consumer's shoes to absorb a brand's meaning and, most importantly, their potential."
Gillis' immersive, empathic approach also helps her deal with harsh criticism. "Criticism can better align a designer with their client and result in positive outcomes," she says. Gillis also refrains from taking criticism personally, instead relying on her design expertise and work ethic to tailor the project to meet the client's needs.
Gillis can maintain a fast work pace and stay fully engaged through apex time management skills and prioritizing her work, coupled with a soundtrack of classic rock hits. She also relies firmly on some industry heavyweights, including Photoshop, InDesign, Illustrator, and Sketch, to bring her creations to life. Then, when inspiration runs dry, she pops over to Behance or Pinterest to get a fresh supply.
Instagram is another source of endless ideas. "I follow a lot of creatives on Instagram," she says. "I also subscribe to some of my favorite brands and creative platforms like Campaign Brief, Wunderman Thompson, and It's Nice That."
Ultimately, Gillis gets a lot of her drive and motivation simply by doing what she loves. "I get to work with talented, fun, and like-minded creatives and build brands from scratch," she says. "It's rewarding and exciting being able to turn a client's vision into reality and see both digital and physical transformations."
When Gillis isn't conjuring up compelling and effective brands, she's spending time in the great outdoors. "I love taking time off the screen," she says. "I get outdoors as much as I can, whether that be for a bushwalk, heading to the beach, having picnics, or exercising. I work best when I adopt a good work/life balance, and I'm passionate about maintaining this."
Gillis even created a personal book on self-care titled A Book of Good Stuff, Made for You, to help women care for their mental health and employ helpful life hacks to prioritize themselves. Whether she's tackling a rugged trail in the bush, working on self-care tips, or creating amazing designs, Gillis continues to inspire.
Submit your work for Indigo Design Award competition