Elif Ergur: The Intersection of Ideas and Execution
Owner of Elif Ergur Studio
by Elizabeth Lavis
|
13 Jun 2022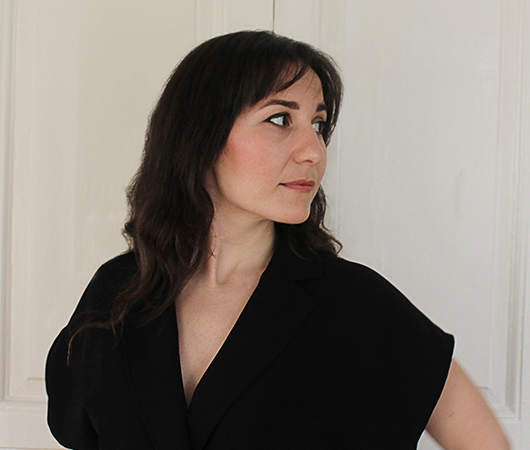 "A great idea is nothing without great execution and vice versa".
For Elif Ergur, owner of Elif Ergur Studio, success comes at the intersection of ideas and execution. "A great idea is nothing without great execution and vice versa," Ergur says. As a result, her studio focuses on a strategic approach paired with creativity, intuition, and close attention to detail. This fusion of a solid plan and creativity is one of the cornerstones of Ergur's success.
"The best piece of advice I've ever heard was not a sentence but a drawing that my former employer sent me," she says. "There were two graphics on it; the first showed the design process of a "junior designer," and the second was of a "senior designer." The difference between the two processes was the intent. "It was about how design should be planned and intentional," Ergur says.
Ergur is from the massive, multi-continental metropolis of Istanbul, Turkey, which straddles Europe and Asia. "Growing up in a megacity with a 15-20 million person population allowed me to work for big international projects, meet designers from around the world, and have a lot of diversity in my portfolio," she says.
Ergur also had a little bit of help from her high school art teacher, who recognized her creative potential early on and encouraged her to study the fine arts. Ergur's interest in graphic design blossomed from the industry's innovative nature and the many job opportunities for graphic designers.
So far, Ergur's foray into design has been successful, so much so that she's never received a severe critique from any of her clients. "Thankfully, I've never had harsh criticism from any clients so far," Ergur says. "If I have any in the future, my ideal response would be to review the situation as objectively as possible and try to find a solution to satisfy the client and me at the same time."
Ergur's stellar track record could be due to her meticulous and collaborative design development process. "I make sure that there is an explanation of every little part of the piece," she says. "When I'm confronted by a question or doubt, I can explain my reasoning for it."
Ergur also carefully listens to what the client wants and needs, trusting their industry knowledge instead of going too far afield. "I start by asking the client lots of questions," Ergur says. Then, once she has some basic information, she and her team conduct a competitive audit of the competition and research the client's field thoroughly, sharing design ideas with the client at every stage.
This comprehensive process builds mutual trust and respect. "My design approach is meaningful and well-crafted," Ergur says. "The intention with each project is to find a meaningful concept for the brand and bring it to life in the best way possible."
When Ergur isn't developing incredible new designs and brands, she's leaning into another one of her passions; lifelong learning. "I am a curious person in general," she says. "I like to research any subject that I find interesting, and I still take online courses on design or other subjects for fun."
Ergur also wants to expand her portfolio to include more international clients and build her local team. "What's next for me is to grow my business into a design consultancy with more service offers and a bigger team," she says.
Wherever Ergur's next steps take her, she's almost sure to find greater success, thanks to skill, creativity, and a solid road map for every project.
Submit your work for Indigo Design Award competition